City Sketches
| | | | |
| --- | --- | --- | --- |
| Mercado in Verona | City Hall | Venice | Venice |
Biography of Barie and Christina Fez-Barringten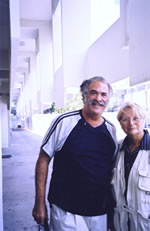 Paul Rudolph's Sarasota High school

Barie Fez- Barringten is an architect, philosopher, writer, artist, project manager and teacher. He is one of the world's foremost advocates of the artistic concept called Architecture as the the making of Metaphors. His work has been recognized around the world, particularly in the US and Saudi Arabia. According to Professor Fez-Barringten there is a 3-way symbiotic relationship that exists between architecture, music language and art, and the audience that experiences that art within the controlled space of that environment. Using the concept of the "metaphor", a synergy that can be easily observed when all three properly work together.

Christina Fez-Barringten is a Pop Art artist and a writer. Her collages, acrylic paintings, and Plexiglas sculptures were part of the exciting visual arts movement that emerged in the mid 1950's in Britain and in the late 1950's in the United States. Pop-Art was one of the major art movements of the 20th century. It was characterized by "mass-cultural" themes and techniques drawn from popular materials and media such as plastics, magazine advertising, TV, pop-music, space-time relativity, and comic books. While Pop Art, like Pop Music, aimed to employ images of popular culture in art and emphasized the everyday elements of any given culture, Christina's work challenged the depressing "elitist" culture of the 1950's with her passion for harmony, grace and balance. She believed that all of these elements could work together. Furthermore, she believed that the "deconstructivism" of DaDa and Surrealism art of the time could be made popular by mixing them with the jargon of the world of fashion and cosmopolitan urbanism that practiced by the new generations. Today, Christina's work might be called Automated Surrealism. This brave young woman turned her beliefs into reality. She broke Plexiglas into fragments and reassembled them into vibrant, colorful sculptures. Christina ripped apart fashion magazines of the early 1960's and gently placed them into compositions of personality, boldness, love, deep thought, and excitement.

Shortly before moving to New Haven to begin his studies, Barie was introduced to Christa Lefson. Christa lived at the International House. A home for graduate students on Riverside Drive. She studied fine arts at Columbia University. Howard Cook, then, the president of the International House, graciously arranged for (Christa) Christina to have a large art studio in the same building, where she could work and develop her new kind of sculptures.
Her medium was Plexiglas, which had never been used in fine art sculptures.
David Rockefeller, commissioned her work to be exhibited at the Chase Manhattan bank. Other exhibitions followed. The Frank Lawrence Gallery at East 57 Street and Park Ave. Showed and represented her abstract sculptures; which, thanks to her medium, and , her artistry, are not like conventional sculptures where volume is inserted into space which surrounds them. Rather, they have become part of space as air, color and light play through it.

Christina was born in Leipzig, Germany. 1956 she came to New York to study philosophy. But when she discovered the powerful and inspiring movement of modern art in New York City, and , learned to know Andy Warhol. Robert Rauschenberg, Roy Lichtenstine, and, others. She decided to use her artistic talent and, changed her goals to study fine art at both the Art Students League and School of Visual Arts.

Shortly before she intended to return to Germany, Christina was introduced to Paul Lefson by Max Waldman, a theatrical photographer (Well known for his book "Waldman on Theater", "Zero", and his photos in Life Magazine). Paul and Christina got married in 1958 and lived on East 31 Street in Manhattan. Sadly, Paul Lefson died accidentally while on business in Chicago early in 1963.

To overcome the devastating loss, Christina turned to her art more than ever. She now studied sculpture at Columbia University under Professor Peter Augustini. In that period Christina learned to know Barie Fez-Barringten.

Barie and Christina married in 1966 in New Haven, while Barie studied at Yale University, under Paul Rudolph, Charles Moore, Vincent Scully and others. 1967 Barie originated the theory of: "Architecture the Making of Metaphors". At that time Barie conducted a lecture series at Yale University with Robert Venturi, John Cage, Paul Weiss, Christpoher Tunnard, and others. This event is partially published in "Main Currents of Modern Thought".

After the completion of Barie's studies in February of 1968, the couple moved for a short while, (To escape the cold of winter.) to Puerto Rico. Barie was appointed junior partner of Schimmelpfennig, Ruiz and Gonzales and designed buildings for Ron Rico and El Mundo.

In Puerto Rico Christina developed a series of original and exciting collages. She was inspired by the most elaborate, rich and opulent editions of the 1960's - Harper's Bazaar and Vogue Magazines.
These collages are excellent posters and are now shown for the first time on the internet.

Back in New York, in order for Barie, now, a licensed architect to do his work, and Christina to have space for her sculptures, the couple designed, built and occupied a large loft on East 68 Street. Barie taught architecture at Pratt Institute. And, when Barie accepted the challenge of Mayor Lindsey to bring the first ""Earth Day" to New York City, he encouraged his students to design and build the stage for that event. Paul Newman and people from Sesame Street, Aly Mcgraugh and others furnished the educational entertainment. The following year John Mc Connel enlisted Barie's assistance to again stage the Earth Day event in Central Park and to get the General Secretary of the United Nations, U Thant, to proclaim Earth Day as an international holiday (March 21).

In addition, Barie founded a New York not-for-profit corporation: "Laboratories for Metaphoric Environments". With one of its goals to provide under privileged children a glimpse of the creative excitement of the building industry. From cabinet work , to carpentry and design. There in order to illustrate his teaching he produced a series of words-drawings, which are now in the hands of several collectors.

In 1973 Barie accepted the challenge to develop two vacation resorts in Tennessee; Sugar Tree and English Mountain. And, in addition he designed homes for a development in Belmopan, Belize, British Honduras.

Also, Barie the artist, developed a series of brilliantly envisioned drawings of futuristic metaphors, which he exhibited with Christina's Plexiglas sculpture, at the Jonathan Gallery in Jackson, and in Memphis, Tennessee.

Later, he was recruited as Manger of Special Projects by the "Gulf Oil Real Estate Development Company" to be its lead project manager for a new computer building and other new structures in Texas. Because of that the couple had moved to Houston. Also, Barie, always interested to inspire young people in his profession, taught part-time at the University of Houston; and, later, fulltime, as associate professor at College Station's Texas A&M University. Professor Fez-Barringten student's benefited by his friendship with the astronaut Joe Allen. Together they looked way into the future and discussed the design of space stations, furniture and other imagined designed necessities.

By 1981 the Fez-Barringten's moved from Texas to Saudi Arabia where Barie trained Saudi Arabian students to work in architecture departments of The Arabian American Oil Company (ARAMCO). In addition, he coordinated all ARAMCO's 21 General Engineering services consulatnts.

After moving to Ryadh, Barie got busy and designed 21 new Internal Secuity forces Housing Projects for the Ministry of the Interior. He also designed and supervised the construction of sport stadiums, office buildings and other building types.

In Ryadh Christina developed, out of necessity a new style of pattern-like paintings. For in this Muslim kingdom representational art is prohibited. In 1986, Christina gave a major exhibition of her acrylic paintings sponsored by the American Ambassador and Presidency of Youth Welfare. In addition she taught and was the judge of important art events, especially during the five years when Barie was Professor of Architecture at King Faisal University, located in Dammam on the Arabian Gulf. Professor Barie Fez-Barringten's articles of metaphors, written during that time, are published in learned journals in the USA, Middle East and Europe.

1999 the Fez Barringtens left Saudi Arabia...............

Metaphorical Story Drawings
Focusing on culture and technology depicting objects, animals, humans and artifacts in imaginary time and the illusions that occur in those moments. Created in Tennessee in 1973 long before leaving to Saudi Arabia. All of the scenes were given to Barie's Metaphoric imagination so that he could see the shape, size and textures of the stories he heard and conceived. He was writing with pictures the story of mysterious cities, places in the desert, or sea as the "Empress Ship Docking" and much more.




Architecture the Making of Metaphors
Barie Fez- Barringten, who had been educated in one of the Bau House's strong holds, Pratt Institute, challenged and combined the two ideas central to the Bau Haus and the entire movement of modern architecture and art:: that there was some idea common to all arts; EG. Interdisciplinary Math and integrative education; in the case of the Bau Haus, design theory, construction materials and techniques including all the arts, architecture and design as arts. But what they never answered was what was it that made them all in art.

His wife Christina was raised in a family of designers and builders in Leipzig, Germany just a few miles from Dessau, the home of the Bau Haus. She was concerned about metaphors and their application to thought and experience. Christina's and Barie's discussion about their respective concerns never really synthesized and found common ground until the synaptic revelation that occurred to Barie during artist Irving Kriesberg's lecture at Yale University when he was proclaimed that "Art was the making of metaphors" Barie queried that if:
A. Art was the making of metaphors, and
B. Architecture was an art, then does it follow that
C. Architecture too makes metaphors.

The following life's work are the examples. proofs and research to complete the above syllogism.

Visual Metaphors
The first lectures "Architecture as the Making of Metaphors" were organized and conducted by Barie Fez-Barringten near the Art and Architecture building at the Museum of Fine Arts Yale University 11/02/67 until 12/04/67. The guest speakers were: Paul Weiss, William J. Gordon, Christopher Tunnard, Vincent Scully, Taran Onat, Kent Bloomer, Peter Millard, Robert Venturi, Charles Moore, Forrest Wilson, and John Cage.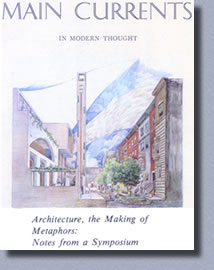 Three major questions confront both the student and the practitioner of architecture: First, what is architecture? Second, why is architecture an art? Third, what are the architecture's organizing principles? Many answers to these questions have been provided by scholars and professionsa, but seldom with enough rigor to satisfy close scrutiny. Nor have the questions been attached to proven and workable forms, so that the art could be developed beyond the limits of personal feelings.

In 1967, a group of master students gathered to discuss the issuance of Perspecta 12, Yale's architectural journal - a discussion which summarized the sad state of the profession as well as the major environmental problems society was generating and failing to solve. The group had already been exposed to studies on the creative process, on contradictions of form, on the comprehention of relevant facts of an existing life style, on planning systems, in educational theories, and in building methodologies, Yet it seemed that fundamental questiona inherent in the profession were being skirted rather than directly attacked.

During the series of colloquia at Yale on art, Irving Kriesberg had spoken about the characteristics of painting as a metaphor. It seemed at once that this observation was applicable to architecture, to design of occupiable forms. An appeal to Paul Weiss drew from him the suggestion that we turn to English language and literature in order to develop a comprehensive, specific, and therefore usable definition of metaphor. But it soon became evident that the term was being defined through examples without explaining the phenomenon of the metaphor; for our purposes it would be essential to have evidence of the practical utility of the idea embodies in the metaphor as well as obvious physical examples. Out of this cancern grew the proposal for a lecture series wherein professionsala and scholars would not only bring forward the uses of metaphor but would also produce arguments against its use. For obviously there can be dissent from the metaphorical method; in this case the dissent (which focuses upon the possibility that the metaphor might obscure reality) actually reinforces the metaphor's wide structural applicability. Thus developed the symposium, which was presented by the Department of Architecture at Yale in the same year. 1967, with the intent "to illuminate, in order to refine and develop, the idea because it makes metaphors; that a work of architecture is a metaphor because it too blends certain programmatic specifics with concerns implicit to its own medium. "Those exploring these possibilities included Paul Weiss, William J. Gordon, Peter Millard, Robert Venturi and Charles Moore; The following statements are edited transcriptions of a small portion of the talks which were contributed to this discussion.
Barie Fez-Barringten

Metagraphics


Ron Rico
Botteling Plant

Long Island City,
New York Factory and Clubhouse

Long Island City,
New York Factory and Clubhouse


La Perla, Puerto Rico
Developed by both Barie and Christina in 1968, New Haven, Puerto Rico and Manhattan an executed as applied photo murals and painted graphics on walls in residences, factories, warehouses and church buildings; specifically: apartments in New York, Picasso House; Ron Rico Bottling Plant (Areicibo, Puerto Rico).


Word Grams


Office of LME

LME: Laboratories for Metaphoric Environments
Founded by both Christina and Barie Fez-Barringten in 1970 as a New York not-for-profit corporation to research and educate on the make-up and applications of metaphors as both product and process in the built environment. It was housed in a loft at 318 East 65th Street (over a bakery) between First and Second Avenues in Manhattan. They are reminiscent of Twenties art where causic and succinct messages were refined into paintings and movies. Many of these works were mounted on cardboard and over glazed with photographic wax. They make the strange familiar in a Dada-esque manner. The words are mixed with graphic images descriptive of the words and vice-versa; some usually associated with the words and expressions; words take on form not usually associated with the words in their conversational context; E.G. a man who is "chairman" pictured as (yes, you guessed it) a man in the shape of a chair.
"Barie Fez-Barringten, Architecture"

Clubhouse, Sugartree
Tenneessee

Gulf Oil Computer Center, Houston
Texas

Intrernal Security Forces Housing Projects; Saudi Arabia

Pharmaceutical Plant, Saudi Arabia
Books